Bosch AquaStar 2700ES Bosch's most powerful tankless water heater (199,000 BTUs) can supply two to three major applications simultaneously! Indoor and outdoor installations available.

Bosch AquaStar 2400ES The Bosch 2400ES yields enough power to supply two showers simultaneously and features an adjustable temperature control for improved comfort. Indoor and outdoor installations available.
AquaStar 1600H This new technology generates a pilot spark from the flow of water requiring no pilot and no electricity!
AquaStar 125 Models The Bosch AquaStar is designed to last. The quality of the AquaStar begins with this inside story: all water parts are solid copper or solid brass.

Just one PALOMA supplies all the hot water you need in your home for shower, bath, dishwasher, laundry, etc....
Paloma tankless hot water heaters have been used in the U.S., in restaurant and commercial applications for over 25 years.
Paloma water heaters are great for portable uses such as Horse/Animal washing, a portable car wash cars, or for Hazmat Teams.
Review the spec sheet for the gallons per minute each model produces .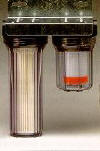 Water Filtration Systems
Prevention of scale buildup on heating elements, walls, and bottoms of hot water heaters is a must.
Boats & Recreational Vehicles
Recreational Vehicle RV Tankless Water Heater

RV-500 Tankless water heater for Recreational Vehicles
This is the first and only instantaneous tankless water heater specifically designed for recreational vehicles. It replaces conventional tank type heaters.
Sail Boat or Motor Boat Tankless Marine water heater

Never run out of hot water again. Designed specifically for the marine environment. Needs no engine or shore power.

Visit our new www.globaltowne.com web site for all Bosch AquaStar, Ariston, PowerStar and Powerstream products.